We have been in start-up mode for a little over 3 years here at HEEDGROUP. Before that we spent a couple of years acting as a team of independent consultants under the HEEDGROUP name.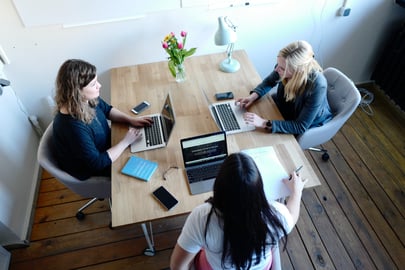 Through a few great client relationships, we have constructed our true value proposition and in doing so, we took a step back and realized that it's time for us to grow-up and start practicing in earnest for HEEDGROUP exactly what we preach to our clients.
We are committing as a bigger and dedicated team to refocus on our own branding and our own presence in the market (what we call our Digital Brand Presence). We will be taking our own company through the steps we take our clients through but this time we want to expose the entire process and our tools to anyone who wants it. We are passionate about truly partnering with our clients and helping them grow their businesses. We like to call ourselves the First No-BoundariesTM Agency. In fact, we really do believe that in some small way we help the economy by helping businesses grow and hopefully help create jobs. It's exactly because of this belief, that we want to expose our processes and tools to everyone. We hope that anyone who needs to grow their business can use what we use to define a brand, target an audience and execute that brand presence in the digital space. We want you to be able to clearly communicate your value proposition to your target audiences because that is how businesses find the right customers and grow.
Understanding who we are and who we serve is the first step because it should always start with the customer, let me explain a little about our clients. Our clients are the companies that keep the national economy flowing. They are either young companies that have reached the point of needing a marketing team to keep the growth happening; or they are the more established company that has plateaued in growth over the years.
These companies usually realize from new management, a new market opportunity or just through fear of retraction that they need to do something different to break the revenue flat-line. For both of these scenarios, the firms can range anywhere from $2MM – $100MM in annual revenues. This is a lot of companies in our economy adding the bulk of employment opportunities in the U.S. These are our customers and we are proud to serve these companies as their marketing partner.
In either situation, I can guarantee that these organizations need a brand strategy and perhaps a refresh and a new approach to reaching the market with a fresh pair of eyes. This is where I mention who we are. We are the firm that comes in, holds up a mirror to who you really are in the marketplace and then helps you rebuild that voice. We don't just supply some "brand report" and run away but we deliver systematic actions around refreshing your voice where your potential customers frequent.
Rome was not built in a day and neither is your brand, nor your digital presence, nor your business. It takes a concerted and systematic process. We use all the tactics and approach any burning issues first by strengthening your Digital Brand Presence through search, social your website, email, blogging (truly any and all touchpoints). It doesn't stop there, that's the first step, implementing a marketing practice is elusive and is filled with unknowns for much of the c-suite.
You need to understand the ever burgeoning field of the practice of Marketing including the Marketing stack, the nuances of the various social, search and shared platforms and you need to make sure your brand is messaging based on who your brand is at its core following brand guidelines.
We are starting our journey on our refresh. In our next post, we will share with you some simple brainstorming tools that we use with our clients to help identify the brand personality.
Thanks for coming along on this exciting ride with us.