A couple of years ago, Goldman Sachs made a bold prediction: In 10 years, VR will be bigger than TV, generating about $182 billion compared to $99 billion from TV. While VR headsets are still gaining traction in the public market, something similar has taken off: 360-degree video ads on social media platforms.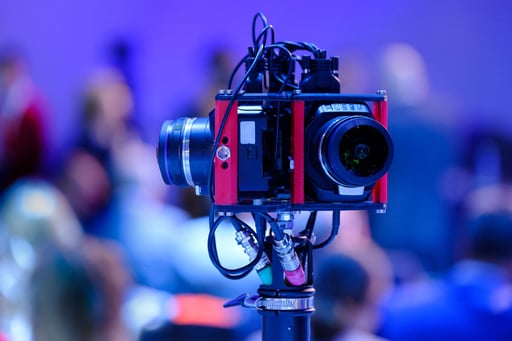 When the School of Rock hit Broadway, Andrew Lloyd Webber wanted to make a splash that would draw patrons to the show. By filming a scene with the cameras in the middle of the room, he provided an immersive experience for potential audience members. The scene was a success. The video generated 1 million views in only three days and sparked a 160% spike in the show's ticketing website's traffic.
It's a concept that works every day. Data from over 700 million 360-degree ads shows 360-degree video ads receive a 46% higher video completion rate and a 14% higher ROI when compared to regular video.
Pulling this off, however, requires a slick strategy.
Secrets to 360-Degree Video
Setting up for a 360-degree video, especially when it's for a promotion or ad, requires a lot of thought. Even if you only want to use it to give a tour of your new office or to highlight the conference you're attending, you must be careful.
A few rules to follow:
Keep the tripod out of it—but keep it steady. If you need support for the camera, opt for a simple camera stick instead of a tripod. The tripod will show up in the video and obstruct some of the scene. Sacrificing the tripod doesn't mean you should sacrifice stability. A jostling video will make viewers sick and turn them away.
Consider the best perspective. A bird's eye view will put the audience above the action, but it also pulls them away. A regular height view will make them feel like they're part of it. Meanwhile, an "ant's eye view" make the action seem larger than life, while also making the viewer feel vulnerable.
Take advantage of human interaction. The School of Rock scene was fun because there was so much happening in all 360-degrees. Find shots that are equally entertaining. For example, a conversation between three colleagues at a conference is a great selection because it makes viewers feel like their part of the action.
Though these rules are good for getting you started, there's much more to think about when it comes to 360-degree video ads. Have fun but make sure there is a purpose to your shoot. And, if you've done some interesting 360-degree videos, share your experiences with us.